So I was bad this month…. So I'm making an announcement!!! I. Am. Not. Buying. Books. In. September.!!!!! One whole month without spending all my spare change on books! I will still have a couple of books come in, but they will all be preordered books I've already paid for (like Queen of Shadow!!!!) but other then those nada – not one cent on books! It's about time I started to make a dent in my TBR!
August Book Haul
I got so many pretty this month!! 
Reawakened (The Reawakened #1) by Colleen Houck
Okay I have owned quiet a number of beautiful books before, but I think Reawakened takes the cake! Look how beautiful it is!!
And ITS SPINE IS AH-MAZE-BALLS!
I Hunt Killers (Jasper Dent #1) by Barry Lyga
Ashley LOOOOVVVEESS this book! And all her raving has worn me down and now I'm determine to read it!! Yvo and Shelbie also love it, so I'm pretty confident that this is going to be an awesome book!
The Wrath and the Dawn (The Wrath and the Dawn #1) by Renee Ahdieh
So I gave into the hype and brought this book! Because of all the hype I have the BIGGEST expectations! Hope it lives up to it!!
Plus I Do Love A Deckled Edge!!!
Split Second (Pivot Point #2) by Kasie West
I LOOVVED Pivot Point it Was. So. GOOOODDD! I have the highest expectations for Split Second but by the way Pivot Point ended I'm thinking this book will be a bit of a let down – I hope not though.
The Seven Realms Boxset by Cinda Williams Chima
So I saw this series on a fantasy series recommendation list and I was like 'ah, why not?', so I went to buy the first in the series The Demon King, but I worked out it would end up cheaper if I brought the box set all at once. AND I AM SO GLAD I DID!!! I've only read The Demon King but I AM SO IN LOVE! I call tell I'm going to love this entire series!
The Demon King (The Seven Realms #1)
The Exiled Queen (The Seven Realms #2)
The Grey Wolf Throne (The Seven Realms #3)
The Crimson Crown (The Seven Realm #4)
Trouble is a Friend of Mine by Stephanie Tromly
I really, really, enjoyed this book. It's so ridiculous that you cant help but have fun while reading it!
The Diviners (The Diviners #1) by Libba Bray
I am so eager to get to this monster of a book!! Especially now that's sequel had been released (or is about to be – I'm not sure). I've actually heard that they've changed the cover art for the next book, which kind of annoys me because this book already looks so BEAUTIFUL!
PLUS THE HARDBACK UNDER THE DUSK JACKET! OHMYGOD I DIE! WHY CAN'T ALL HARDBACKS HAVE SUCH AMAZING COVERS!
Crown of Midnight (Throne of Glass #2) by Sarah J. Maas
This is my favourite series EVER! but I've never bought the actual books until this year! I brought the prequel and the first in the series last month and the second and third this month and PREORDERED QUEEN OF SHADOWS!! The Queen of Shadows copy I've preordered is the coloured hardback though – so it wont match the white paperbacks I've brought, but I can deal with that!
Heir of Fire (Throne of Glass #3) by Sarah J. Maas
The Decaying Empire (The Vanishing Girl #2) by Laura Thalassa
I enjoyed The Vanishing Girl, I had my problems with it but I was really sucked in by the ending and had to know what happened next. Plus I JUST LOVE these covers! SOOO PRETTYY!
On Kindle
I only brought one book this month on Kindle, and I'm so glad I only spent a couple of dollars on it since it was such a disappointment.
Play (Stage Dive #2) Kylie Scott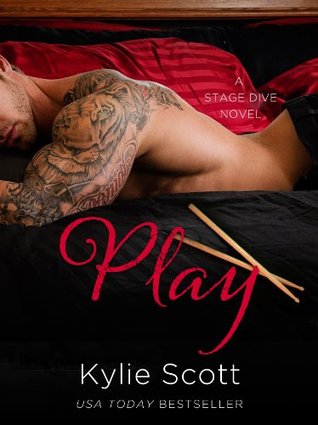 SO THATS ALL THE GOODIES I BROUGHT THIS MONTH! HAVE YOU READ ANY?? WHAT DID YOU HAUL THIS MONTH? LET ME KNOW!